When: August 22nd, from 2-5pm
Where: Gameplay Space, 1435 rue St-Alexandre, Suite 140
Facebook Event: https://www.facebook.com/events/1683039451930081/
Cost: free
You are cordially invited to attend Teacade, a lovely afternoon tea party x arcade event.
Enjoy a selection of wonderfully alternative games that'll help you reflect and unwind while sipping a cup of lady grey. Sample different tea flavors! Sweet and savory snacks will be served to delight your taste buds. Friends, new and known alike, will warm your hearts.
This event is free, open to the public, and kid-friendly! Bringing your own tea cup or mug is encouraged. You'll not only help the environment but we'd also love to see them!
---
Games at Teacade
(Try to) Dress Up
by Nivetha Kannan (website, KillScreen)
Growing up, I always loved to play casual dress-up games. Though I was a great fan of more mainstream titles such as Mario or Pokemon, the online dress up world still had me captivated for hours on end. I'm not sure why I liked them so much but I think it could have been due to my upbringing. As a daughter of a mostly rural Indian family, my clothing choices were monitored very strictly. My Mom and Dad weren't strict on a lot of stereotypically Asian things (they let me major in art, for example) but due to social expectations of women in our culture (and virtually every culture), my clothes were constantly censored by my parents. Dress up games gave me an outlet where I could dress as I wanted without reprimand. "(try to) Dress Up" is a game than basically acts like the dress up games I loved growing up but simulates my real world experience with dressing up. The game is designed so that you have to get my parents' permission before going out in that you're wearing. Good luck with that- they're pretty tough judges to please.
Backyard Summer
by Edward Cottreau (Twitter)
I made Backyard Summer as a sort of vacation game. A game that's laid back, sunny, and doesn't have high stakes or desperate situations. A game where the only conflict is a choice between digging for treasure to impress your neighbour and helping your mom grow flowers.
Backyard Summer is a game about friendship and doing things for others. When you dig up treasure, you'll combine what you find into impressive gifts to befriend your neighbour. When you grow flowers with your mom, you'll help her win a flower contest. While you do these things, you'll hear their stories and soak up some good summer vibes.
There's 31 days in August. How will you spend these sun-filled days?
A Good Cup of Tea
by Konstantin Kopkas (Website) & Elenor Kopkas (Website)
A Good Cup of Tea' is a game my sister and I built to mirror the experience of making ourselves a nice cup of tea. Well, that was our intention, at least; there's also a floating hand, a googly-eyed kettle and a counter so you can keep track of all those delicious memories. We hope you enjoy it!
Techno Tarot
created by Kara Stone (Twitter), programming by Cecily Carver, & music by Maggie Maclean
When will you meet the perfect cyborg partner? Should you take the plunge and get a new phone? Is the spirit of your old air conditioner really haunting you? Get your techno-fortune told by the tarot bot and find out! Attune with your device by thinking about your topic then a reading about your past, present and future will be calculated and dispensed.
Real Army Simulator
created by Yifat Shaik & programming by Derek Quenneville
Real Army Simulator is a satirical choose-your-own adventure narrative game, based on my (yifat) two years mandatory service in the Israeli Army.
The game tries to emulate my personal experience and present the army less as glorified heroic endeavour but rater as a more mundane and at time ridiculous experience.
The game follows the daily routine of a soldier working in the army computer helpdesk. At each stop of the day, the player is presented with a dilemma on how to behave in a certain situation. There answer determines how the day will end- going home, getting detention or guard duty. Not all choices are obvious, answer that the player might think are better might (following the army logic) be the wrong one!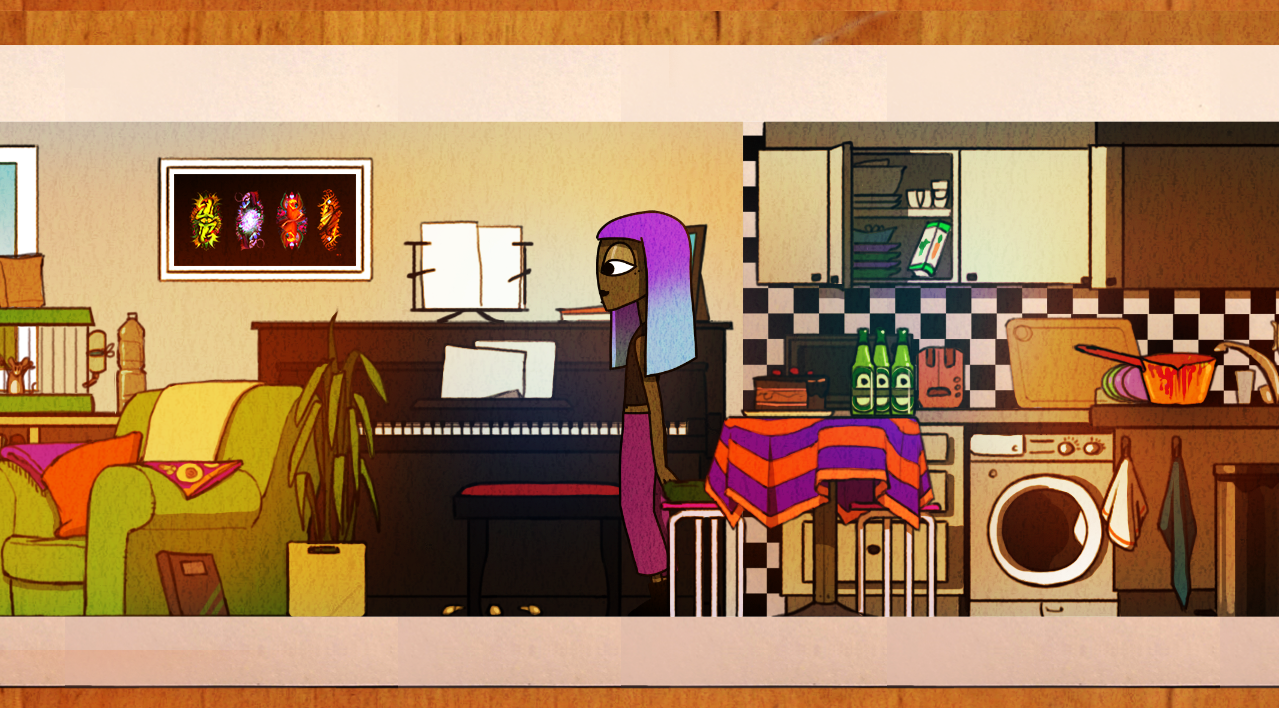 She Might Think
by Marion Esquian (Twitter, Itch.io, Portfolio) & Ludovine Berthouloux (Twitter, Tumblr, Blog)
'She Might Think' is a little game in which you will meet different girls and see what they have to say. They will be visiting the same apartment, each with their own opinion on a selection of objects. The goal is secretly to show you that every girl is unique, has her own opinions and definitely doesn't answer to gender stereotypes. We used the opinions of real women and friends to create our characters!
---
Teacade Speakers
Delight your minds with our amazing speakers, as they discuss alternative + experimental games and culture:
---
Thank you!
Acknowledgments to our wonderful volunteer bakers: Jasmine Eladas, Nicolas Barrière, and Rekka Bell! Teacade has been made possible by assistance from our IndieGoGo backers, thank you!