When: Monday, January 25th, from 7-9pm
Where: Notman House (51 Sherbrooke Ouest)
Language: english
Cost: free
Lets make things that makes things!
Generators are games or toys that use procedural generation to create novel results. Procedural generation is not only a fun and useful way to add variety to a game project, it can be a valuable area of artistic exploration in itself. Using Construct 2 for demonstration, in this workshop we'll try out some different ways to randomly generate images using a quick and dirty approach and talk about using procedural generation as a creative inspiration.
This workshop is open to everyone of all genders, ages, and experiences. Kids are welcome to participate but should be supervised by their parental guardian.
Before coming to the workshop:
Bring or share a Windows laptop. You can sign up to borrow one (if available).
Install Construct 2 (Windows only). If your laptop is a mac (OSX) you'll need to either have a dual boot or run a virutal machine like Virtual Box.
Have a fav image editing software (eg: Photoshop, Pixlr, GIMP, etc)
Register
Workshop Leader: GP Lackey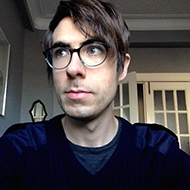 GP Lackey is an artist and game maker with a long history of making graphics for independent and experimental games. GP also creates experimental generator tools like the Tamperdrome Collection on the side and is half responsible for Generate a Cat. He is currently part of KO_OP Mode, a Montreal game collective.