When: Tuesday, March 1st, 2016 from 7-9pm
Where: Notman House(51 Sherbrooke Ouest)
Language: english
Cost: free
Imagine an eternal nighttime pond. We are all in it. Each one of us, a duck – sleeping or drifting silently. Each is own person. Each duck can be expressed in any way possible. Tiny state machine, a sequence of dreams. A bundle of quacks forming a new language. Little bees and fireflies and butterflies. All of this, as units of a tiny world. A world of chaos, play and whimsy and sometimes tears. A feathers of a tear. As long as there are ducks, there is hope. Join in the absurd construction of an impossible, sleepy kingdom under the stars. Could it be the dream of a bathtub ?
This workshop will be a good way to create together, although from an individualistic point of view. Using Twine 2.0, we will create interactive poetry connecting each one of us through words, patterns or echoes, in an attempt to build a self-contained pond, with its own ecosystem. I will be available to teach Twine to those who have no clue about what's going on, empowering attendees. But, for those not inclined to use a computer, it will also be able to participate with just a pen and paper.
This workshop is open to everyone of all genders, ages, and experiences. Kids are welcome to participate but should be supervised by their parental guardian.
Preparation
Download and install Twine2 on your laptop. Pen + paper also welcome!
Register
Workshop Leader: David Calvo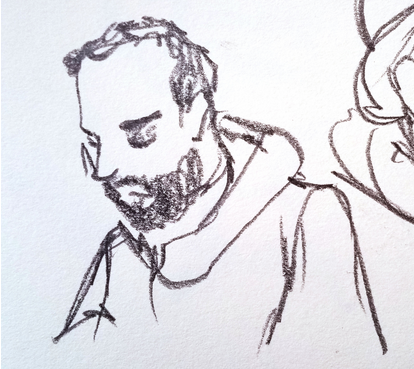 David Calvo is an award-winning writer, cartoonist and game designer. He lives in Montreal with his katt and several plastic ducks.
(Image by Paloma Dawkins)