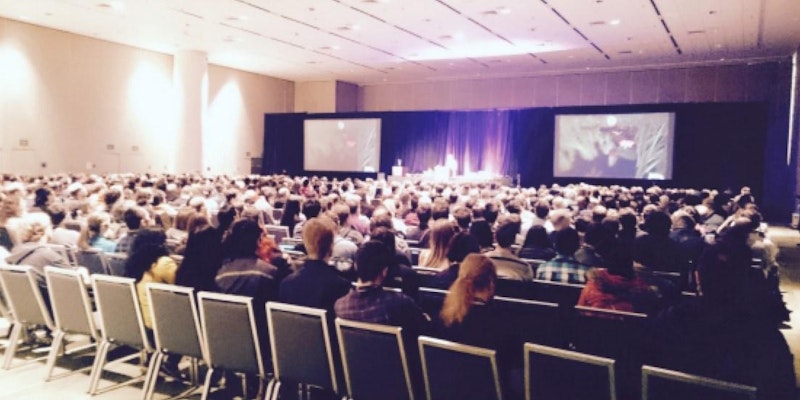 When: Tuesday, February 7th, 2017 from 7-9pm
Where: 3rd floor of Notman House / Cafe OSMOS (51 Sherbrooke Ouest – rue Clark entrance)
Primary language: English content
Cost: free
Are you speaking at GDC17 (or at any upcoming conference)? This workshop will go over advice + tips to becoming a better public speaker and presenter. If it's your first time speaking at GDC, we'll help you know what to expect and to perform better.
There will be two parts to the workshop:
Craft better slideshows: you don't have to be a graphic designer to create great slideshows. Learn about common mistakes, what kinds of things to actually put on your slides, and overall advice to polishing it up.
Become a better public speaker: whether it's your first time or you've given presentations before, you can always improve your presentation style. We'll help ease those nerves with some great advice and experiences from a veteran speaker!
While this workshop is geared towards GDC, you can definitely take our points and re-apply them for any conference, even ones not related to game development. Open to everyone of all ages, experiences, and identities.
There'll be about a half hour at the end of the workshop to work on your stuff. Feel free to bring your talk's outline, presentation, and anything else. We'll do some peer review for personal advice and review (in a friendly way!).
Slides
Workshop Leaders: Tanya X. Short & Rebecca Cohen-Palacios

Tanya has spoken at various game development conferences, including GDC, MIGS, PAX Dev, and more. By day she is the Captain of Kitfox Games. By night she is a co-founder and co-director of Pixelles.


Rebecca is a UI developer & artist with Ubisoft Montreal and also Pixelles co-founder. Having been a web designer for over six years, Rebecca has acquired a variety of skills which help her make kick-butt video games.