When: Wednesday, March 14th 2018 from 7-9pm
Where: 3rd floor of Notman House / Cafe OSMOS (51 Sherbrooke Ouest – rue Clark entrance)
Language: English (French, Spanish and Portuguese also spoken)
Cost: free
This workshop is a hands-on introduction to shaders using Unreal's node based editor, aimed at folks interested in creating simple and fun effects to enhance their art assets without getting too technical. The participants will learn a few fundamental tricks can be used on their own or combined for more complex results.
The shaders will be built purely with the visual editor, no coding involved. The knowledge acquired is easily transferable to other engines and tools such as Shader Forge, Amplify Shader Editor, Unity 2018 Visual Shader Editor etc.
Open to everyone of all genders!
We apologize but this venue is not wheelchair accessible.
Prerequisites:
Basic knowledge of 3d modeling (any software) ("programmer art" counts too), UVs and texturing.
No previous Unreal or shader creation experience required.
A laptop with Unreal 4.16 or newer installed.
Recommendations:
---
Download the Slides & Assets
You can download the slides and assets to learn and do the workshop from home!
---
Workshop Leader: Bruno Afonseca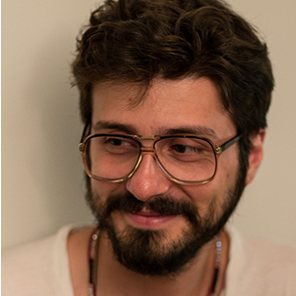 Bruno Afonseca is a Tech/VFX artist with 8 years of games industry experience. Currently making VR games at Minority Media and teaching 3d modeling at Champlain College of Vermont.
His work can be seen at http://3dbruno.com and https://www.artstation.com/bruno