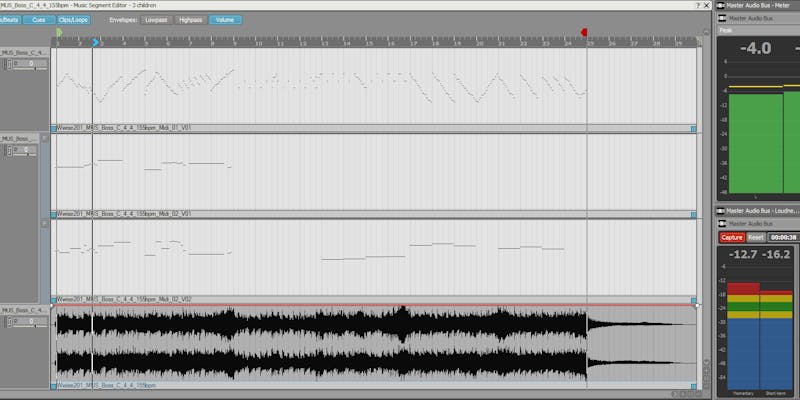 When: Monday, May 7th from 7-9pm
Where: 3rd floor of Notman House / Cafe OSMOS (51 Sherbrooke Ouest – rue Clark entrance)
Language: English
Cost: free
In this workshop, we will be looking into the implementation and creative process for audio for games. This is geared toward any person who wants to know more about the audio creation process as a whole, whether you are an audio creator new to games and or don't know anything about audio, etc.
Basic topics to be covered during the workshop are : Sound design, interactive music concepts, implementation, spatialisation, events, game syncs, real time parameter control, dynamic mixing and the basics of audio optimisation.
All this will be done by having a look into a full game project (in Unity and Wwise) and learning how the project's audio soundscape was created. No laptops are necessary for this workshop. If you'd like to bring a laptop, device or pen/paper to take notes please do!
The main takeaway for this workshop is that as a non-audio developer you will be better equipped to discuss audio with audio creators on your project and and if you are just starting out in audio for games, this workshop will solidify your implementation basics and give you interesting perspective into what is feasible for your next project.
Open to everyone of all genders!
We apologize but this venue is not wheelchair accessible.
---
Slides & Assets
[pdf-embedder url="https://pixelles.ca/wordpress/wp-content/uploads/2018/05/Pixelles-Presentation-The-Principles-of-Audio-Design-And-Implementation-for-Games.pdf" title="Pixelles Presentation – The Principles of Audio Design And Implementation for Games"]
→ Download the slides
→ Get the audio examples
---
Workshop Leader: Maximilien Simard-Poirier
I'm a Sound Designer currently living in Montreal where I work in the games and interactive audio industry. I'm currently a full time employee of Audiokinetic as a sound designer for the developer relations team and I also work freelance in my spare time. My background ranges from post-production sound for feature films and advertising, sound recording for VR films, composition and technical audio implementation.
Before working at Audiokinetic, I've worked on multiple Indie titles and as well as in AAA. I worked on games such as Resident Evil 7, Pew-Die Pie's Tuber Simulator and Time Machine VR. I also work on experimental VR with some friends on the side and give talks in conventions and schools about game audio and VR/AR/MR sound production.