When: Tuesday, June 18th, 2019 from 7-9pm
Where: 3rd floor of Notman House / Cafe OSMOS (51 Sherbrooke Ouest – rue Clark entrance)
Primary language: English
Cost: free
Want to tackle environment / background art but have no idea where to start?
This workshop will introduce some basic principles and ideas when problem solving for environment concept design. We'll start with general things to think about, process and then dive into examples of how this is applied.
Open everyone of all genders. Please note that the venue is not wheelchair accessible as there are several flights of stairs.
Personal Paintover Reviews
Following the lecture part of the workshop, attendees will have the opportunity to receive critique on a paintover piece in their portfolio. You must have a completed paintover piece done prior to attending this workshop.
What's a paintover?
A paintover is when you directly paint or draw over someone else's image for feedback/ changes, usually in photoshop or a similar program.The advantage of doing this is usually to explain to people in real time and then they can ask questions, etc, since a lot of art is visual.
How do I get a time slot for a personal paintover review?
Anyone interested in reserving a spot for a paintover critique can grab a "Participant + Review" ticket type. Because these are personal reviews, we're asking for $20 CAD to hold your time slot. Upon arrival at the workshop, we'll refund your money! Cancelations must be requested via email (info@pixelles.ca) 48h before the workshop date to receive a refund and give someone else your spot.
Register
---
Workshop Leader: Jessica Cheng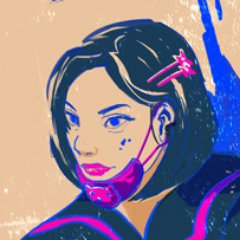 Jessica Cheng is a concept designer who's currently working on the world renown Call of Duty series of games at Beenox/Activision. A visual developer with experience in animation, vfx, and illustration with a focus on high level art direction. Her work can be seen at chengeling.art
Art: chengeling.art
Twitter: @chengeling